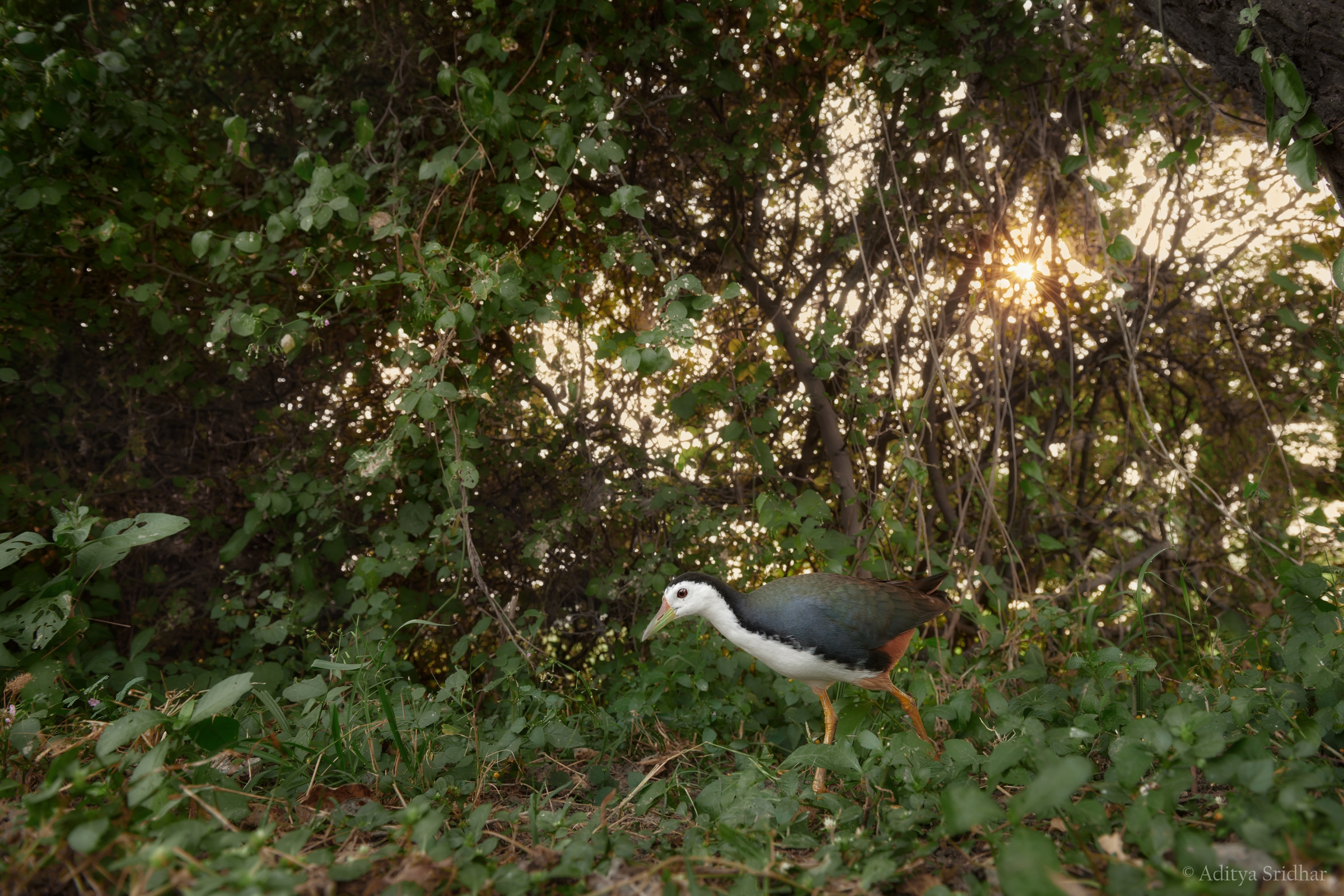 This is yet another shot I'd envisioned long before my trip to Bharatpur came to fruition. Besides the park's spectacular Painted Storks and majestic raptors, there were quite a few rather obscure species that I wanted to shine light on – one of them being the White-breasted Waterhen.
I'd seen many videos of people feeding Waterhen and Babblers in this particular area of the sanctuary (Sapan Mori, if you're interested), but I was surprised to see not a single wide-angle image of this species from that location. I figured it'd be a fun avenue to explore so I made a mental note to myself to dedicate some time to this underappreciated species.
Things, however, didn't exactly go to plan…
The Hunt.
I asked my rickshaw driver-guide to be on the lookout for potential Waterhen by the roadside, but a slight miscommunication resulted in us tossing away 45 minutes of precious golden light looking for birds in the canteen area which, as you may have guessed, was chock-full of people. Sweaty, tired and utterly unamused, I decided to call time on the session.
As we were heading out of the sanctuary, however, my guide decided to hit one last known feeding site for this species. Sure enough, from the bushes emerged a curious little White-breasted Waterhen. In a flash, I lay prone on the ground, hoping to find a workable composition. Despite the bird's friendly disposition, however, I could sense a bit of hesitation. With every click of the camera's shutter, the Waterhen distanced itself from me, wary and unsure of my intentions. The light, too, wasn't getting any better; deep shadows and bright skies are never ideal conditions for photography.
And so, I left, feeling slightly vindicated in my choice to target this species. I decided to return in the evening, with the weather forecast looking a bit more optimistic then.
Recognition.
The evening rickshaw ride was a long and bumpy one. Sunset was still a couple of hours away, so I decided to tick a couple more species off my list before approaching the Waterhen site. It was also my last evening in Bharatpur, and the familiar feeling of premature nostalgia started to rear its head. My thoughts came to an abrupt halt, though, at the sound of my guide's voice; "Waterhen!" he whisper-shouted.
I practically jumped off the rickshaw. Never would I have anticipated the adrenaline rush this tiny, frankly unremarkable, species would give me, but something about this bird captivated me like no other. So much so that crawling on a bed of thorns was something I didn't even pay a second thought to.
I spent about 45 minutes at this spot, watching as the Waterhen's apprehension melted into recognition. Photographing this individual was actually quite challenging as it constantly came within my lens's minimum focusing distance – a nice problem to have, to be fair. At one point, the bird even hopped up onto my rickshaw!
Suffice to say it was one of the best evenings of my trip.