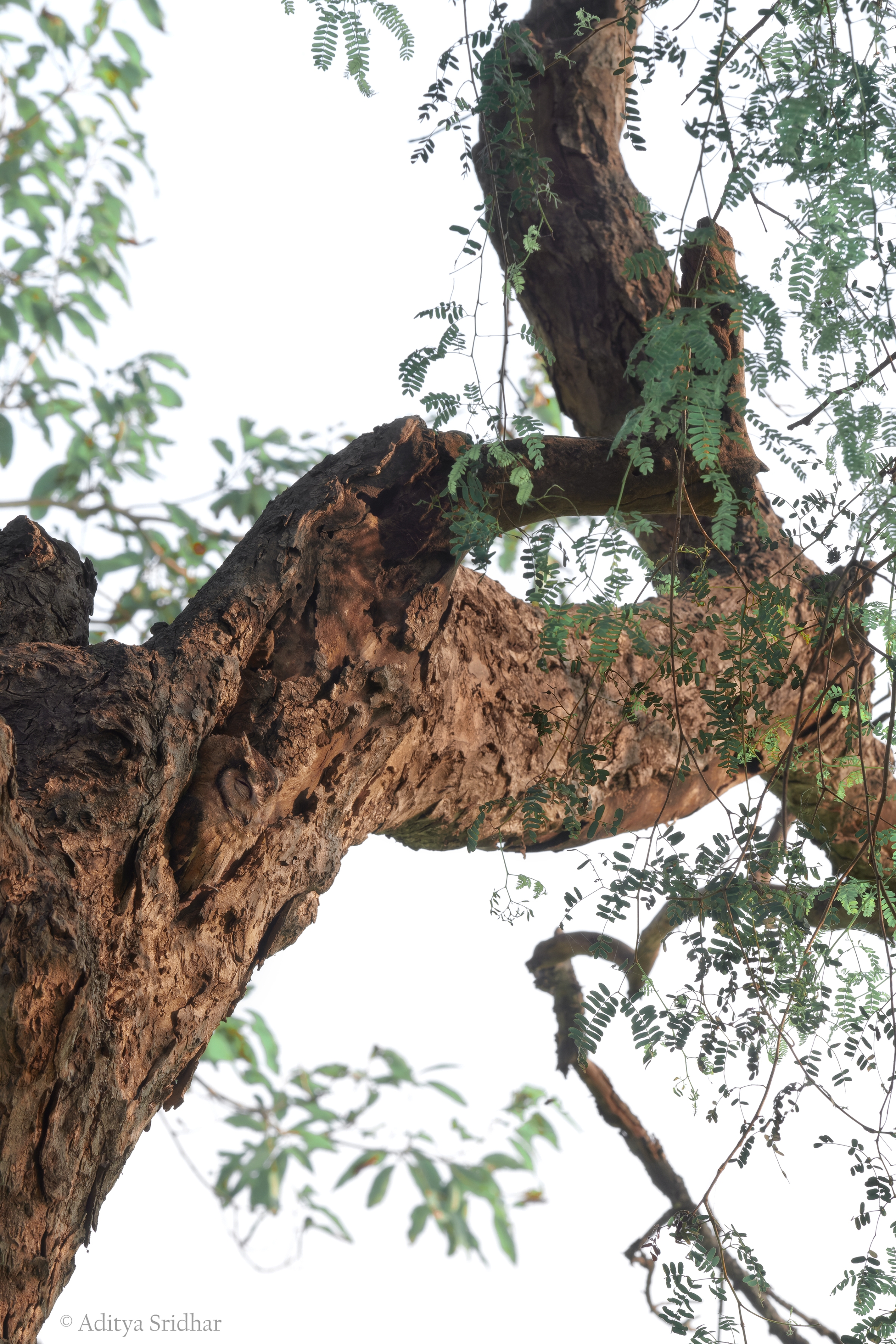 Scops Owls were high on my list of targets during my trip to Bharatpur, so I was thrilled when my Rickshaw driver led me to a known roost site for that species. As we arrived on location, he casually pointed a finger towards an old, hollow tree. Confused, I scanned the tree for any signs of the bird I was after, but to no avail. My guide chuckled and asked me to take a closer look. Squinting, I managed to (barely) locate one of the most cryptic creatures of the Indian jungle – a roosting Indian Scops Owl.
My Approach.
Having sighted my target, it was now time to find a compelling composition. The scene was as chaotic as it was beautiful, and to make sense of it was a rather interesting challenge. I took a couple of images with my 500mm lens, but they were quite simplistic – not exactly what I was looking for. I switched to a different lens – a 70-200mm – and what I saw through the viewfinder felt closer to what I had in mind. The next step was to find a way to get closer to the bird.
It was a tricky proposition. The last thing I wanted to do was disturb the sleeping owl. Crouch-walking slowly, wary of crunchy dead leaves and thorns, I managed to make my way to a nearby tree. It was now time to work on finding a suitable composition. I settled on a focal length of 175mm after much deliberation – I found it gave a good sense of habitat while ensuring the owl isn't lost in the frame. I also stopped down to f/18 to get most of the image in focus, save for some of the leaves in the background.
This image is far detached from my usual style of photography, but my goal was to give the viewer a sense of this mysterious species' most defining feature – its masterly camouflage. I hope you like it!